We've been thinking about topics that we could be interested in, right? Now it is time to put up a blog around one topic that you are interested in. The basic idea is not to put up just any blog; it is to put up a niche blog to serve an already existing 'market'. So, first things first, we need to find a market, or a group of people who would be interested in reading your blog.
How can we do this? There are probably many ways but we shall focus on one. A simple way to find out if people are interested in what you write is to use Google (or any search engine). If people are searching for the stuff you want to write about, then people are interested! How do you find out if people are searching for what you want to blog about? Simple, take your topic (e.g. cars) and run it through a free keyword tracking tool such as Google keyword tool or Wordtracker keyword tool. You will find out how many people search for your topic and, more importantly, you will get a list of related topics. For example, this is what you get when you search for cars: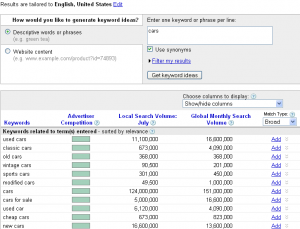 Let's assume that you want to start a blog about cars. As you can see above, cars is a very popular topic with more than 151,000,000 searches per month so you're on to something good. The idea is to find a topic that has a good number of people searching for it. Once you find such a topic, you then set up a blog about that topic and work hard to get your blog in the search results that are displayed when people search for your topic. If your site is displayed on the front page of Google when people search for, say cars, then people will click and visit your site. If many people search for your topic, you get many visitors. In the case of cars, you get millions of visitors 🙂
Sounds simple, eh? The basic idea is simple but the execution requires hard work, patience and commitment.
Now, getting your site to be listed in the first results page of Google when people search for a word like cars or money, etc is very difficult. Why is it difficult? Because these words are so lucrative that bigger better financed sites are after them and it will be nearly impossible to beat them in the short term. It is always better to try and go a niche deeper. Perhaps 'sports cars' or 'classic cars'. These phrases still get searched a lot but are easier to tackle. Always try and find a niche.
Don't worry if you cannot find a "good" topic. The important thing is to be able to write several blog entries about it and that your general topic (e.g. cars) has a lot of related topics (e.g. classic cars, old cars, vintage cars, etc). These 'topics' are called keywords and you're going to be writing blog entries on each one of them (more on this later) so make sure there are a lot of them available! Don't get too caught up in choosing a topic. Pick one and move on; so that you can start earning sooner.
Next we'll build up our blog and start writing. Make sure you don't miss that!